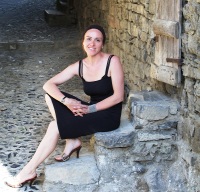 I grew up in a little town just above Bellagio. A lovely village but not enough to hold a teenager's curiosity to explore the world.
When 19 yrs old I had the opportunity to spend a three year adventure in the United States, in both Boston and San Francisco. This was a very important experience to me for which i am still grateful today.
When I came back to Italy I immediately moved to Tuscany between Florence and Siena in the wine area "Chianti Classico" .  Here I seriously grew both personally and professionally.
I decided then to come back to Lake Como, restore my family's apartments and start my personal new adventure, Holiday Homes! The apartments personally restored, reflect a bit of myself! Elegant and sophisticated, but at the same time country and cosy without being stuffy or overly formal ! Original and Classic!
I call Gittana " a small Tuscan Village on Lake Como!" A place to relax and enjoy a slower pace! Tuscany has been very important to me! A large piece of my heart will always be there, but It was time for me to move on. I adore Gittana because it's a hidden treasure where my family roots are run deep and  it has outstanding views of Lake Como!