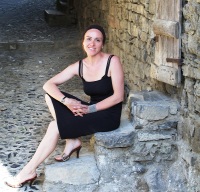 Hello! I am Alessandra. I grew up in a little town just above Bellagio. A lovely village but not enough to hold a teenager's curiosity to explore the world. When 19 yrs old I had the opportunity to spend a few years in the United States, Boston and San Francisco.
After many years of travelling and stopping around the world and Italy, I decided then to come back to Lake Como, restore my family's apartments in the ancient borgo / part of Gittana and start my personal new adventure ... Holiday Homes! The apartments personally restored are perfectly reflecting myself! Elegant and sophisticated, but at the same time country and cosy without being stuffy or overly formal ! Original and Classic!
I call Gittana " a small Tuscan Village on Lake Como!" A place to relax and enjoy a slower pace! I adore Gittana. It's a hidden jem where my family roots are run deep. I hope to be able to bring the lost energy and beauty of the past back!