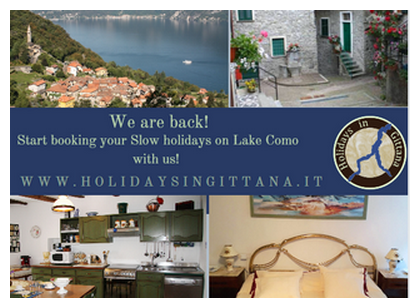 We are back!
FEELING ANXIOUS! CA' PINA APARTMENT IS NOW READY TO WELCOME MY GUESTS AGAIN!
Dear Friends,
It took almost 8/9 years to regain possession of my Cà Pina apartment. Time doesn't fly when in pain. The long family and bureaucratic process for the settlement of the damages suffered by me in this long period is hopefully over. Finally nearly a month ago all the reinforcements were removed inside the kitchen and livingroom, allowing me to return inside and slowly with a lot of efforts, restore my Cà Pina to its splendid original appearance. It has been weird to access the space freed by stanchions and full of dust. I didn't know really where to start from. So i looked at one corner and from there I moved on. Three weeks after I made it to the last corner! The apartment is now ready to welcome my guests back to Gittana. I am soon going to udate all the pictures!
9 years is a long time to be out of this business. Now this covid situation doesn't make it easy to anyone in the world to think further and predict even the near future. But I will stay positive knowing I do have a lot of people who love me still and will do their best to share me around. In the meantime ... I also got old, married, chobbier but still open to smile together, sit together, open a bottle of good wine together and much more!
Thank you to those who have always been near me, supporting me while in struggle and walking me throughout the difficult moments.
I am now updating my website. Little changes since my brother webmaster is always too busy to help :-D! I was told to become more social so I am following my instagram, facebook, twitter a bit more seriously. You are welcome to check it out, offer suggestions, share and stay in touch with me whenever you feel. You can write me on any of the social platforms above or through my webmail.
I hope to see you back in Gittana again soon. If not this year in the following ones.
I wish you all the best for this upcoming year, stay strong and we will all get through this terrible Covid pandemic. I have already been vaccinated so it makes it safe to come visit!
Ciao Amici di Holidays in Gittana! Take good care of yourself and family!
Alessandra